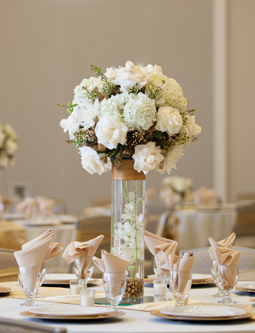 A beautiful state of the art facility perfectly designed for large and small events of any kind. Floor to ceiling sliding glass doors open to our spacious patio. Our high tech audio visual system includes a drop down projection screen and monitor to for presentations during your event. Colored spot lights and wall wash lights help create an exquisite atmosphere that will reflect the elegance of your special day.

Looking for a spectacular entrance, use our patio for pre-event cocktails. Windows treatments and glass doors can be opened to present your guests of honor and welcome guests.

Whether you're celebrating your wedding, anniversary, birthday, Quinceanera or a holiday – The Trinity Ballroom is the perfect venue for your event!